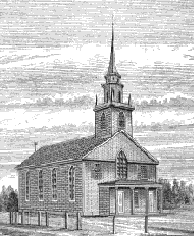 Foxborough Houses Of Worship

The first meetinghouse in town also served as its church. The first meetinghouse was erected and finished between 1763 and 1766, and torn down between Dec. 31, 1821, and Jan. 4, 1822. In the colonies, in order to form a town a meeting house was required. People from this area tried numerous times between 1756 and 1778 to be incorporated but their attempts failed until 1778.
History of Worship In Foxborough
The first church in town was the Congregational Church.
The first minister of the Congregational Church in the Town Of Foxborough was the Rev. Thomas Kendall. He was ordained in town in 1786 and served as it's pastor until 1779. Rev. Kendall's successor was the Rev. Daniel Loring who served from 1804 until his resignation in 1806. The church's third minister was the Rev. Thomas Skelton who served for about four years. The Rev. Thomas Williams was the fourth minister; he was installed in 1816. The fifth minister, Rev. Willard Pierce, was ordained here in 1824 and resigned in 1839. The Rev. Daniel J. Poor served as the church's minister from 1840 until 1847.
The Old Brick Church was built in 1822 by the Congregational Society soon after the destruction of the first meeting-house, and was located quite near the site of the old structure, and about one hundred feet north-west of where Memorial Rock rests. It was dedicated in January, 1823, and taken down in 1855.
The Orthodox Congregational Church was built in 1854, and stands at the head of Rock Hill street. This is the current Bethany Congregational Church, UCC.
The First Baptist Church was built in 1822, for $1,200; it was located on Elm street. Measuring about 36 x 40 feet, it was the first house of worship in town which had a stove. The church was moved in May, 1838, to the site occupied by the Town House in 1878; here, the church was lengthened twelve feet and a vestry finished in the basement. In 1850 it was sold and later burned down on January 27, 1876.
In 1850, a Baptist Church was built on School Street at a cost of $4,200. Improvements were made to the church in 1856 and 1860, and was enlarged and improved. Following these improvements, the building was rededicated on January 22, 1879, with an address by Rev. Spencer.
The Baptist Church's first Minister was Rev. Warren Bird, who served from 1822 until 1828. In 1831, Rev. Timothy C. Tingley was settled. He resigned in 1837. The third settled Minister was Rev. Silas Ripley who was minister at the Baptist Church from 1837 to 1841. In 1842, Rev. Edwin B. Bullard became the Minister and he served until 1843. Rev. Silas Ripley succeeded him in the position and served from 1843 until 1854.
By 1840, there were two church buildings in the center of town - the Congregational Church and the Baptist Church. These were joined by the Universalist Church in 1843. All three were located on or near the town green.
As early as 1838, the Universalist Society in Foxborough was holding Sunday services in Sumner Hall, which was situated where the Union Block used to stand. Willard P. Turner gave land on Bird Street, fronting the Common, to the Society and the Universalist Church was built there. In October 1843, the church was dedicated and the Rev. Charles W. Mellen was installed during the ceremony. The church originally had a spire and belfry, but the spire was blown off in a severe gale in 1853.
In addition to the early ministers who were pioneers in the Universalist Church such as Hosea Ballou, Thomas Whitemore, a Mr. Davis, who preached at the services held at Sumner Hall, once the Society had their own church building, it's first setled minister was Rev. Charles W. Mellen, who served from 1843 until 1846. The Rev. E. C. Rogers followed him from 1846 until 1847. From 1847 to 1848, the Rev. William S Anderson was Minister of the Universalist church. The Rev. Holmes Slade was next to serve from 1848 until 1853.
Records date the earliest Catholic Mass celebrated in Foxborough taking place in the Rafferty home in 1844. In 1851, Fr. Michael McLaughlin was assigned to care for the mission station in town. Around 1853, Fr. Aaron Roche was placed in charge of the mission station. At this time, Mass was celebrated in the home of Richard Gorman on Central Street. On May 2, 1859, a parish was established in Foxborough under the care of Reverend Michael X. Carroll. The Roman Catholic Church was originally located on Church Street where the Knights of Columbus Hall now stands. Their first church was completed in 1861, and destroyed by fire early in 1862; their second church was built in 1873, and burned September 12, 1877. The third church was built in 1878. By 1954, it was decided a new church builing was needed and one the current brick St. Mary's church building on Carpenter Street was built by 1958.
Explore More @02035.org


Events Around Foxborough
Ministers In Town
SOME MINISTERS WHO HAVE SERVED AT THE
FOXBOROUGH UNIVERSALIST CHURCH
Links will open in a new window
1843 - 1846 - Rev. Charles W. Mellen
1846 - 1847 - Rev E.C. Rogers

1847 - 1848 - Rev. William S Anderson
1848 - 1853 - Rev. Holmes Slade
1853 - 1857 - Rev. Lucius Holmes
     - 1859 - Rev. N. C. Hodgon
1860 - 1865 - Rev. Cyrus Asa Bradley
                    - Rev. H. C. Hodges
(?)1866 - 1869      - Rev. John M. Merrick
1869 - 1873 - Rev. James H. Little
1873 - 1874 - Rev. James Eastwood
1874 - 1876 - Rev. Allen P. Folsom
1876 - 1877 - Rev. William W. Hayward

1877 - 1881 - Rev. Quillen Hamilton Shinn

1881 - 1883 - Rev. Donald Fraser
1883 - 1890 - Rev. George Hills
1890 - 1892 - Rev. Levi M. Powers
         - 1896 - Rev. William Shaw White
1898 - 1901 - Rev. John Eills
1903             - Rev. Wallace Hatch
1909 - 1910 - Rev. Hazen Conklin
1910 - 1930 - Rev. Charles Conklin
                    - Rev. Arthur Wilder Grose
                    - Rev. William Couden
                    - Rev. Gilbert A. Potter
1939 - Rev. Harold Latham

1940 - Rev. Dana E. Klotzle

1941 - Rev. Burchard W. Royce, Jr.

1944 - Rev. Gates

1946 - Rev. Earle T. McKinney

1948 - Luther Morris

1950 - Rev. David H MacPherson

1951 - Rev. Wilbur P Parker

1954 - Rev. James E Munroe

1955 - Rev. Peter Lee Scott

1957 - Rev. Howard Burns

1958 - Rev. Weston A. Cate

1962 - Rev. Charles Barber

1966 - Rev. Donald Wassmann

1969 - 1998 Rev. Richard Glessner

1999 - Rev. Dorothy Boroush

1999 - Rev. Patience Gardner

2000 - 2008 Rev. Fayre Stephenson, Minister Emerita


2011 - 2012 Rev. Jose Ballester

2012 - 2015 Rev. Tim House

2015 - 2017 - None

2017 - present Rev. Jim Robinson (Retired)

(Incomplete list as of September 2017)

More About Worship In Foxborough & Houses Of Worship
Foxborough's History And Historical Sites
Place Names
From:
Commonwealth of Massachusetts
&
Commonwealth of Massachusetts
Unofficial name
Donkeyville
Foxvale
Lakeview
Paineburg
Quaker Hill
a locality in, or part of a Town(s) or CITY (in caps)
Foxborough
Foxborough
Foxborough
Foxborough
Foxborough
County

Norfolk
Norfolk
Norfolk
Norfolk
Norfolk
Also known as, or other notation
now Lakeview
a.k.a. Paineburg
formerly Donkeyville
a.k.a. Foxvale

Tweets by @02035org
Visit 02035's profile on Pinterest.