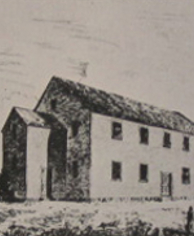 Foxborough Buildings & Structures

Foxborough's historic buildings date back to the 18th century. Come explore the history of some of these great places!
Historic Buildings & Old Homes
The Wood-Sumner House was constructed around 1760 on Mechanic Street.
Jacob Leonard built his house ~ 1770 on Cocasset Street.
Seth Robinson built the Robinson House ~1770. It originally stood on Elm Street but was moved in 1875 to what is now Fales Place.
Built around 1793, the Deacon Ebenezer Forrist Home is on Granite Street.
The Kerr-Carpenter-Haigis House was built ~1825 at the corner of Central and Liberty Streets and now stands at the corner of Clark and Central Streets.
The Foxborough Universalist Church on Bird Street was built in 1843. It is the oldest church building in town and the oldest building on the common.
The 1853 Virgil S. Pond Home, located at 39 Main Street, can be seen here and the family was enumerated in the 1880 census.
In 1853 William Washburn began construction of his antique colonial with gingerbread trim home at 16 Union Street.
The Doolittle Universalist Home For Elderly People, located at the corner of Bird and Baker Streets, was built in 1855. It is now the only retirement/nursing facility in town.
The home at 11 Leonard Street was built in 1873. Ebenezer and Abby Maria (Lothrup) Shaw moved into this house after they resided in a home on Church Street. Mr. Shaw arrived in town shortly after the Union Straw Works opened and worked there as a hat presser; he died in 1895.
Massachusetts Hospital For Dipsomaniacs And Inebriates - 1889
The was built in 1889 and was the first hospital in America for alcoholics.
The 1897 Pettee-Gray house built in the colonial renaissance style is located at 14 Union Street.
The Abraham Sulkin antique cape home, once located at 116 Cocasset Street, can now be found at 24 North High Street.
The home at 98 Central Street was built ~1856. It is a Greek Revival style house and thought to have been built built for Samuel Coombs.
The Italianate style house at 10 Maple Place was built ~1856 for Robert W. Kerr.
The Edward B. Williams house at 7 Baker Street was built in 1889.
Built in 1860, the Dr. Lemuel Dickerman House & Office is located at 8 Baker Street.
The Queen Anne home at 9 Baker Street was built in 1887 for Willard Warren Turner.
Captain Ezra Pickens's Italianate house at 12 Baker Street was built in 1856.
The Gothic Revival house at 13 Baker Street was built in 1835 for Willard P. Turner.
The Irving W. Lane house at 14 Baker Street was constructed in 1892.
Deacon Ebenezer W. Allen's house at 15 Baker Street was built in 1854.
Built in 1860, the H. T. Comey house is located at 16 Baker Street.
The Joseph Alden House at 17 Baker Street was built in 1890.
Built in 1846, the Deacon Amos R. Aldrich Queen Anne style house is located at 18 Baker Street.
The Lewis Pond house at 21 Baker Street was built in 1854.
The house at 22 Baker Street was built in 1929.
Harrie Quimby's Bungalow atyle home at 23 Baker Street was constructed in 1915.
Joel Maddocks house was built in 1865 and is located at 25 Baker Street.
Erected in 1851, the Moses A. Richardson House can be seen at 26 Baker Street
Captain Henry C. Lindley's house at 27 Baker Street was built in 1865.
Constructed in 1890, the Thomas Caton House is located at 28 Baker Street.
The Second Empire style house at 29 Baker Street was built in 1858 for George S. Wheeler.
The Sarah C. Cleveland house at 30 Baker Street was constructed in 1930.
Deacon Henry S. Godfrey's house at 31 Baker Street was built in 1868.
The house at 32 Baker Street was built in 1920 for Donald Pike.
Built in 1840, the Salmon Turner Jr. house is located at 33 Baker Street.
The Daniel Roe house at 34-36 Baker Street was built in 1873.
You can find the 1850 Jonathan Pratt Perry House at 35 Baker Street,
Hattie M. Quimby's house built in 1910 can be viewed at 38 Baker Street.
Built in 1906, Harry P. Leavitt's house is at 39 Baker Street.
Hattie M. Quimby's other house built in 1910 can be viewed at 40 Baker Street.
Dr. Francis A. Bragg's home at 42 Baker Street was built in 1842.
43 Baker Street is where you can find the Harvey C. Rost house which was built in 1962.
George Weger's house at 44 Baker Street was erected in 1947.
The Edwin B. Truax house at 45 Baker Street was built in 1912.
Constructed in 1923, 46 Baker Street is where you will find the Joseph Burgess house.
AAron L. Watts' house at 47 Baker Street was constructed in 1913.
Built in 1909, George Parker's house is located at 49 Baker Street.
Constructed in 1920, you will find the Joseph Burgess house at 50 Baker Street.
The Walter Sanford house at 62 Baker Street was built in 1916.
Learn more about the Baker Street Historic District, it's history, and stories and architecture of some of the houses within the district.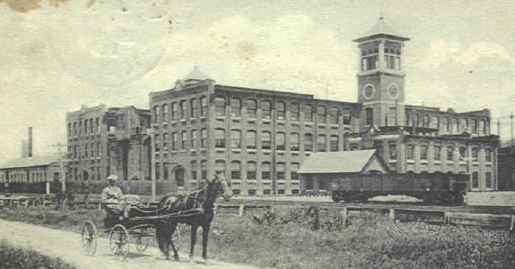 Ezra Carpenter, Jr. 1824 - Yeoman
Ezra Carpenter, Jr. was the son of Ezra Carpenter who answered the call of the militia in 1775 and was among the troops who crossed the Delaware with George Washington that Christmas Eve. His son purchased the lot in 1824 just prior to his marriage to Eliza Belcher and built a Cape that would eventually see the birth of 7 children, 3 of which died in infancy. His occupation was Yeoman, "one who farms his own land". He also became a Selectman among other town positions. His son David Carpenter became Superintendent of Rock Hill Cemetery. The property was later owned by the Witschi family who ran the Witschi Dairy.
William Kerr 1824 - Built for William Kerr, Wheelwright. Rebuilt by E.P. Carpenter 1866

Linus Carpenter 1829 - Bonnet Presser and Yeoman
Linus Carpenter's house was built on Central Street but when town officials wanted to build the Carpenter School at the current site of the Senior Center, Linus had his house turned around and moved to what eventually became Shaw Place.
Alvan Fales l835 - Built for Alvan Fales, Blacksmith
Alvan Fales acquired this property from his brother Alfred who owned many acres in the Main Street section of town and may have built the Cape style house for his brother. The blacksmith shop stood for many years eventually converted to a garage before being torn down.
Elias B Paine 1851 - Built for Elias B. Paine, Merchant
The Paine and Hodges families have ties to this basic Greek Revival style house built by Elias B. Paine, a merchant from Boston and most likely related to the Foxborough Paine family. So numerous were the Paines that the area later called Foxvale was then called "Paineburg". Spencer P. Hodges, a local young man employed by Paine in Boston, bought the property from him in 1854, which then consisted of 3 ˝ acres and "buildings".
Susan Payson 1857 - Built for Susan Payson
This was the first plaque in our Program displayed with a woman's name. Susan, a "singlewoman", was the daughter of Phillips Payson and granddaughter of Swift Payson, Foxborough's first Town Clerk. She purchased the land to build her house from her brother-in-law, Daniels Carpenter who was the father of E.P. Carpenter a leader in the building of the Straw-hat industry in town.
Edmund Forrest 1867 - Built for Edmund A. Forrest, Straw Hatter *Moved to this site in 1926
Edmund A. Forrest originally built this house around the corner on Granite Street. In 1926, a Bristol family member of The Foxboro Company fame bought the property and had the house moved to its present location on the corner of Union and Granite Streets.
John Pond 1895 - Built for John H. Pond, Florist
John H. Pond was a commercial florist who, with a partner, established the green houses on Garfield Street under the name of Pond and Plimpton. Mr. Pond afterward built and operated a green house on Clark Street where he developed a variety of carnations called Lillian Pond carnations (named after his wife).
George H Josselyn 1899 - Carpenter & Firefighter
George Josselyn, a carpenter, had just completed his home when, as a firefighter, he responded to the fire at the Union Straw Works, the biggest hat factory in the world. In June 1900, just several days later, the tragic Town House fire erupted and again he responded. He and others were seriously injured when the bell tower collapsed. He was carried to his new home where he died, leaving a wife and two children. "Substantial sympathy" to the widow and children was offered by the fire department who gave their time to grade and seed the lawn and lay out walkways.
The above are some houses in town included in the local "Historic House Plaque Program" which requires a fee for conforming signage and research.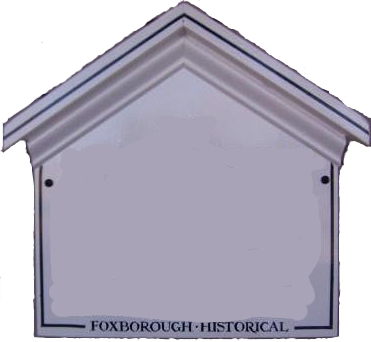 To find out about the history of your home or property, you can start by finding your deed or at town hall finding the parcel/lot number/book&page number. Then go to the Norfolk County Registry of Deeds and find your deed in the deed books. The Registry also provides the option to search by your name and town. After you find the deed, just trace the history back through the deeds and/or plot plans referenced in each deed.
Tweets by @02035org
Historic Structures
On The National Register
There are at least seven places in Town listed on the National Register of Historic Places, including:
Seth Boyden House - 135 Oak St. - Also known as Oakwud
Otis Cary House, 242 South St.
Foxborough Grange Hall, 11-15 Bird St.
Memorial Hall, 22 South St.
Amos Morse House, 77 North St.
Capt. Josiah Pratt House, 141 East St.
Ezra Carpenter House, 168 South St. - Also known as Witchie House
Foxborough Pumping Station, 25 Pumping Station Rd. - Also known as Foxborough Pumping Station #1 Waterworks District
Foxborough State Hospital, Jct. of Chestnut and Main Sts. Also known as Massachusetts Hospital for Dipsomaniacs & Inebriates. The campus was redeveloped and there was a large fire in some of the buildings on July 14, 2006. It is now referred to as "Chestnut Green".
Land Parcels, Districts, And Homes Listed On The National Register Of Historical Places
Boyden, Seth, House
(added 1983 - Building - #83004092)*
Also known as Oakwud
135 Oak Street
Historic Significance: Architecture/Engineering
Architectural Style: Federal
Area of Significance: Architecture
Period of Significance: 1700-1749, 1750-1799, 1800-1824, 1825-1849
Owner: Private
Historic Function: Domestic
Historic Sub-function: Single Dwelling
Current Function: Domestic
Current Sub-function: Single Dwelling
Carpenter, Ezra, House
(added 1985 - Building - #85000029)*
Also known as Witchie House
168 South Street (10 acres, 1 building)
Historic Significance: Architecture/Engineering, Event
Architectural Style: Federal
Area of Significance: Architecture, Industry, Commerce
Period of Significance: 1800-1824
Owner: Local Gov't
Historic Function: Domestic
Historic Sub-function: Single Dwelling
Current Function: Vacant/Not In Use
Foxborough Pumping Station
(added 2005 - - #05001362)*
25 Pumping Station Road
Also known as Foxborough Pumping Station #1 Waterworks District
Historic Significance: Event, Architecture/Engineering
Architect, builder, or engineer: Boyden, Ernest N., O'Connell, William
Architectural Style: Queen Anne
Area of Significance: Architecture, Community Planning And Development, Engineering
Period of Significance: 1950-1974, 1925-1949, 1900-1924, 1875-1899
Owner: Local
Historic Function: Industry/Processing/Extraction
Historic Sub-function: Water Works
Current Function: Industry/Processing/Extraction
Current Sub-function: Water Works
Foxborough State Hospital
(added 1994 - Norfolk County - #94000695)*
Also known as Massachusetts Hospital for Dipsomaniacs & Inebriates (1889-1
Junction of Chestnut Street and Main Street
(1760 acres, 38 buildings, 2 structures)
Historic Significance: Event, Architecture/Engineering
Architect, builder, or engineer: Brigham & Soffard, McLaughlin & Burr
Architectural Style: Queen Anne, Colonial Revival, Classical Revival
Area of Significance: Social History, Health/Medicine, Architecture
Period of Significance: 1875-1899, 1900-1924, 1925-1949
Owner: Private , Local Gov't , State
Historic Function: Health Care, Industry/Processing/Extraction, Landscape, Recreation And Culture
Historic Sub-function: Auditorium, Energy Facility, Forest, Hospital, Plaza, Sport Facility
Current Function: Health Care, Vacant/Not In Use
Current Sub-function: Hospital
Cary, Otis, House
(added 1986 - Building - #86000379)*
242 South St.
Historic Significance: Person, Architecture/Engineering
Architect, builder, or engineer: Unknown
Architectural Style: Greek Revival
Historic Person: Cary,Otis
Significant Year: 1837
Area of Significance: Architecture, Politics/Government, Industry
Period of Significance: 1825-1849, 1850-1874, 1875-1899
Owner: Private
Historic Function: Domestic
Historic Sub-function: Secondary Structure, Single Dwelling
Current Function: Domestic
Current Sub-function: Secondary Structure, Single Dwelling
Foxboro Grange Hall
(added 1983 - Building - #83000595)*
11-15 Bird Street
Historic Significance: Architecture/Engineering, Event
Architectural Style: Late Victorian
Area of Significance: Social History, Architecture, Industry
Period of Significance: 1875-1899
Owner: Private
Historic Function: Commerce/Trade, Industry/Processing/Extraction, Social
Historic Sub-function: Manufacturing Facility, Meeting Hall
Current Function: Commerce/Trade, Domestic
Memorial Hall
(added 1983 - Building - #83000597)*
22 South Street
Historic Significance: Architecture/Engineering
Architect, builder, or engineer: Stevens,J., Multiple
Architectural Style: Gothic
Area of Significance: Architecture
Period of Significance: 1850-1874
Owner: Local Gov't
Historic Function: Education, Recreation And Culture
Historic Sub-function: Library, Museum
Current Function: Recreation And Culture
Current Sub-function: Museum
Morse, Amos, House
(added 1986 - Building - #86000027)*
77 North Street
Historic Significance: Event, Architecture/Engineering
Architect, builder, or engineer: Unknown
Architectural Style: Federal, Other
Area of Significance: Architecture, Industry
Period of Significance: 1800-1824, 1825-1849
Owner: Private
Historic Function: Domestic, Industry/Processing/Extraction
Historic Sub-function: Manufacturing Facility, Multiple Dwelling
Current Function: Domestic
Current Sub-function: Single Dwelling
Pratt, Capt. Josiah, House
(added 1983 - Building - #83000598)*
141 East Street
Historic Significance: Architecture/Engineering, Event
Architectural Style: No Style Listed
Area of Significance: Military, Politics/Government, Architecture
Period of Significance: 1750-1799
Owner: Private
Historic Function: Domestic
Historic Sub-function: Single Dwelling
Current Function: Domestic
Current Sub-function: Single Dwelling
Foxborough State Hospital ***
(added 1994 - District - #94000695)*
Also known as Massachusetts Hospital for Dipsomaniacs & Inebriates (1889-1
Junction of Chestnut Street and Main Street
Historic Significance: Event, Architecture/Engineering
Architect, builder, or engineer: Brigham & Soffard, McLaughlin & Burr
Architectural Style: Queen Anne, Colonial Revival, Classical Revival
Area of Significance: Social History, Health/Medicine, Architecture
Period of Significance: 1875-1899, 1900-1924, 1925-1949
Owner: Private , Local Gov't , State
Historic Function: Health Care, Industry/Processing/Extraction, Landscape, Recreation And

Culture
Historic Sub-function: Auditorium, Energy Facility, Forest, Hospital, Plaza, Sport Facility
Current Function: Health Care, Vacant/Not In Use
Current Sub-function: Hospital
Foxborough's History And Historical Sites